The 44 foot motor life boats had one younger sister, known as the 40300, she was a prototype that was never finalized. Development halted during World War Two. After the war, development started again to find a replacement to the wooden 36 Foot Motor Life Boats throughout the Coast Guard fleet. So work the began.
These new 44 foot boats were designed by the US Coast Guard and built in the Coast Guard Yard in Baltimore, MD. They were the most advanced rescue boat the Coast Guard had designed at the time. The boats are self-righting, self-bailing lifeboats meant to work in the toughest conditions. If they ever rolled over they were designed to self right themselves in less than 30 seconds. They are virtually unsinkable, needing to have the 9 water-tight compartments filled with water before they will go under.
These boats were not designed for speed, rather relentless search and rescue efforts in high seas. To give you some idea, these boats were designed to operate up to 50 miles offshore in 30 foot waves and 20 foot breaking surf close into shore. They have room for 21 survivors below decks and have approximately a 250 nautical mile cruising range. Since the boat was designed to tow up to 125 tons, she may assist much larger vessels to reach safety.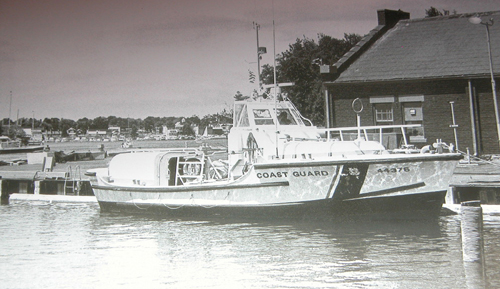 44376 at the old Lighthouse Depot on Lake Charlevoix, converted into the US Coast Guard Station. Photo not dated, but probably from the mid to late 1970's.
44376, as the boat was named, was built in the late 1960's, Most likely 1966 from all available research. The builders plaque was missing from 44376 so the exact date is unknown. I hope the plaque will turn up one day so it can be put back on the boat. The boats started being numbered from 44300 and they built approximately 110 of the 44's. 44376 happened to be received by Station Charlevoix Michigan and served there for most of her career until she was transferred to Marquette, until she was decommissioned in 1996 due to the engine room flooding. She was due to be replaced anyway so she was never fixed. Currently (2007) only 1 of the 44 MLB's remain in service out in Chatham Massachusetts while another 44 is at Group Woods Hole, MA. as a parts boat. The 44's were replaced by the new 47 foot MLB.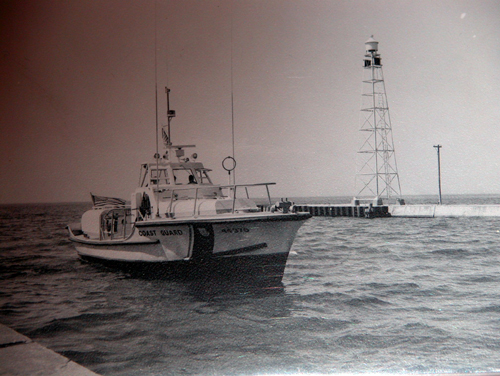 44376 Entering between the piers from Lake Michigan to Lake Charlevoix. This photo is not dated, but is probably from the late 1960's or early 1970's based on some of the boats equipment.
As mentioned in the Project Overview page of the web site, 44376 sat around for many years as she was transferred from one place to another hoping that someone would fix her back up. She was in the Upper Peninsula at Sault Ste. Marie, Michigan and had sat on a pier for several years before being purchased in 2001 for restoration by Jeff Shook.
The design specifications are listed below for the 44 foot motor life boats.
44 Ft. MLB Detailed Specifications:
Length: 44 ft 1-1/2 in
Beam: 12 ft 8 in
Draft: 3ft 6 in
Displacement: 39,500 pounds
Speed: 16 knots (Cummins) 14 knots (GM)
Range: 150 nautical miles (Cummins) 200 nautical miles (GM)
Crew: 4: coxswain, engineer, and 2 crewman
Survivors Capability: Can carry up to 21 survivors
First built: 1962
Last built: 1972
Entered Service: 44376 entered service in 1967, built in 1966.
Finished service: 1 still in service
Number built: 110
Operation numbers: 44300 to 44409
Towing Capacity: 125 tons
Engines: Twin Cummins 200 hp or General Motors 184 hp.
44376 has Detroit Diesel 6-53ís
Construction: Corten steel hull, mild steel framing and decks and aluminum superstructure.
Cost New: $125,000.00 (1962)
Designed by:
U.S. Coast Guard Yard, Curtis Bay, MD.